Hereford Bulls & Black Hereford Bull
consigned to the Arkansas Spring Multi-Breed Bull Sale
March 27, 2021 • 12:00 noon
Contact Luke Mobley for information on Hereford bulls
Lot 47: BB 2054 SENSATION 312G ET: 44130724, DOB 9/23/19
BW 82, Adj WW 700, Adj YW 1039
Moderate, Dark red, Horned bull that will work well on heifers. A bull that we thought enough of to use on are own heifers before offering him, Five of the commercial heifers will also be offered in this sale.
 Lot 48: BB 6001 Dominos Legend 138G: 44075207, DOB 9/21/19
BW 77 Adj WW 719, Adj YW 1046
Here is a horned bull with plenty of pigment around his eyes, Above breed average on 90% of his EPD's.
 Lot 49: BB 6153 First Draft 128G: 44112038, DOB 9/15/19
BW 79, Adj WW 672, Adj YW 1120
Here is are top Fall 2019 Polled bull, He is a thick topped, stout, heavy boned with a big foot. Calving ease bull with growth and maternal.
 Lot 50: BB 632D Pilgrim 316H ET: 44175899, DOB 2/3/20
BW 81, Adj WW 672, Adj YW 1210
Long body bull with plenty of growth, with the best yearling weight of the Spring yearlings, Great EPD spread. Outstanding growth & maternal.
Lot 51: SAU 968G: 44071848, DOB 1/29/19
BW 68, Adj WW 521, Adj YW 872
Sired by Churchhill Sensation, Calving ease bull, Top 10% BW, 20% CED
Lot 52: SAU 973G: 44108563, DOB 2/1/19
BW 70, Adj WW 492, Adj YW 831
Sired by a Revolution son, and going back to the Victoria family on the bottom.
 Lot 53: OBCC Catapult T20H ET: 44218216, DOB 2/11/20
BW 81, Adj WW 636, Adj YW 1149
Bred in the popular Barber Ranch program, Top 10% WW, 15% YW & MG.
 Lot 54: OBCC Catapult 121H ET: 44218215, DOB 1/18/20
BW 68, Adj WW 616, Adj YW 1054
Direct son of the $80,000 LCC Two Timing 438.
 Lot 55: OBCC Rock C08H ET:  44218343, DOB 2/15/20
BW 84, Adj WW 702, Adj YW 1193
Sired by Churchill Rock and out of an Outcross 18U daughter, Top 5% WW & YW 10% SCF MG BMI & BII
 Lot 56: OBCC Rock 947H:  44218345, DOB 1/20/20
BW 78, Adj WW 555, Adj YW 1001
Sired by Churchill Rock and out of an About Time daughter, Top 15% MCW & Fat.
---
---
 Hereford Bulls Sold March 28, 2020 
 Lot 35: BB 422: Catapult 146F: AHA 43964601, DOB 9/24/18
BW 78, Adj WW 559, Adj YW 968
Sired by Catapult 422 and out of a TCC MR Davidson daughter, A bull with a lot of growth; Above breed average EPD on BW, YW, REA and CHB
 Lot 36: BB Y509 Vision Focus 141F: AHA 43957068, DOB 9/17/18
BW 74, Adj WW 571, Adj YW 938
Power bull, Top 10% SCF, Above breed average EPD on BW, WW, YW, MCE, MARB, BMI, BII
Out Lot 37: SAU 873M: AHA P44002233, DOB 2/16/18
BW 60, Adj WW 477, Adj YW 845
Calving ease bull, easy keeping with good maternal
 Lot 38: SAU 880M: AHA P44002236, DOB 2/9/18
BW 75, Adj WW 539, Adj YW 968
 Lot 39: SAU 851M: AHA P44002224, DOB 1/24/18
BW 67, Adj WW 440, Adj YW 838
Sired by Top Shelf 504X, easy keeping bull, Top5% DMI
Out Lot 40: SAU 856M: AHA P44002226, DOB 1/28/18
BW 70, Adj WW 498, Adj YW 855
Sired by Sheyenne 3X a proven calving easy bull, 856M is a calving easy bull with great maternal, Should produce great females.
Out: Lot 41: AC 88X 901G ET: AHA P44105295, DOB 3/25/19
BW 65, Adj WW 678
Low birth weight bull who's still stout build and has eye appeal. Sired by 88X who we feel is the female maker of the Hereford breed for udder & Fleshing ability. 901G is one we feel would be safe on heifers & should leave some females back in a cow herd.
---
 Hereford Bulls Sold March 23, 2019 
Lot 54: BB 0150 Perfect Timing 303E ET, AHA 43920596, DOB 10/15/17,
BW 72, Adj WW 585, ADJ YW 842

Lot 55: BB A152 Pippin Time 1762, AHA 43860191, DOB 9/13/17
BW 76, Adj WW 551, Adj YW 911
Lot 56: BB 4R Revolution Signature 1768, AHA P43860175, DOB 9/19/17,
BW 89, Adj WW 491, Adj YW 904
Top 10 % WW & YW
Lot 57:BB 422 Steel Catapult 1773, AHA P43860169, DOB 9/25/17
BW 74, Adj WW 503, Adj YW 830
Top 10% BW
Lot 58: BB 189 Dominos Hyalite 1776, AHA P43869291, DOB 9/27/17
BW 75, Adj WW 453, Adj YW 774
Lot 59: BB422 Boomers Catapult 1789,  AHA P43860187, DOB 10/17/17
BW 74, Adj WW 405, Adj YW 799
Lot 88:  BB 200Z Excellence 300E ET, AHA 43941163, DOB 8/11/17,
Lot 60: JCF Advance 8050U 2917E ET, AHA 43797975, DOB 2/9/17
BW 78, Adj WW 500, Top 1% Sustained Cow Fertility EPD,
Sired by the great L1 maternal sire HH Advance 8050U, Use on registered or commercial heifers, will add power & performance.
Lot 61: JCF Advance 8050U 2617 ET, AHA 43797984, DOB 2/6/17
BW 80, Adj WW 560, Top 1% Sustained Cow Fertility EPD,
Anchored by strong maternal family with great udders, Use on commercial heifers, no creep.
Lot 62: JCF 955 W JC Domino 9227 ET, AHA P43848113, DOB 9/22/17
BW 80, Adj WW 540 Top 5% REA & CHB$
Well structured, wide base, deep flanked, All EPD's are at or above 35% average, No creep.
Lot 63: JCF Advance 736 9217 ET, AHA 43846559, DOB 9/21/17
BW 78, Adj WW 550
Donor dam is 13 year old with great udder & easy fleshing, sire is a Debter Hereford Ranch AL proven sire of over 200 registered offspring, No creep.
Lot 64: JCF 225Y Beefmaker 9187 ET, AHA 43846556, DOB 8/18/17
BW 66, Adj WW 560, Top 5% WW, 10% YW MM M&G MARB
Dark red, deep chested, well muscled end to end, scurred, longevity bred into pedigree, donor mother 13 yr old with great udder feet & eyes that is easy fleshed, No creep.
Lot 65: Seagraves 12C 439 Big Sexy1738, AHA 43878812, DOB 8/28/17
BW 70, Adj WW 540, Adj YW 930
Heifer Safe CED of 3.2, Stout easy fleshing, Top 10% Sustained cow fertility, udder & teat.
Lot 66: Seagraves 1437612B Jake 1739, AHA P43878821, DOB 8/28/17
BW 78, Adj WW 553, Adj YW 875
Dark Red, Red neck, Red legged, Top 105 scrotal.
Lot 67: Seagraves 249Y 439 Big Sexy 1774, AHA P43880611, DOB 10/8/17
BW 83, Adj WW 527, Adj YW 810, Halter Broke!
Lot 68: Seagraves 48X 439 Big 1779, AHA P43880614, DOB 10/23/17
BW 70, Adj WW 503, Adj YW 850
Top 10% Sustained cow fertility & Baldy maker Index.
Lot 82: 1758ET  his reg # is P43878836,DOB 9/21/17
BW 85, Adj WW 625, Adj YW1055
Lot 69: SAU 749L, AHA P43948012, DOB 2/9/17
BW 65, Adj WW 568, Adj YW 935
A Revolution grandson
Lot 70: SAV 757L, AHA P43941611, DOB 2/17/17
BW 65, Adj WW 532, Adj YW 848
Sired by TH 49U 719T Sheyenne 3X
Lot 71: SAU 767L, AHA P43941612, DOB 2/24/18
BW 75, Adj WW 492, Adj YW 821
Lot 87: Diablo Domino 777, AHA 43869867, DOB 9/17/17
BW 75,
Very impressive EPD file, Wean weight 699, Gentle, loads in trailer in open pasture with feed bucket into trailer.
---
 Hereford Bulls Sold March 24, 2018 
Lot 53 – AC CATAPULT 703E ET, P43869811, DOB 2/9/17
BW 85, WW 725, YW 1302
Super stout bull with performance, 703E is big footed and sound.
Lot 54 – AC UNWOUND 704E ET, P43831365, DOB 2/12/17
BW 83, WW 701, YW 1100
Phenotypically and structurally correct as you can make one, 704E has the look and Stoutness to be a true herd bull.
Lot 100 – AC FIREMAN 705E ET, P43831366, DOB 3-2-17
BW 77, WW 775, YW 1265
Top – 15% EPD's for CED WW & $CHB, 20% REA & MARB
Lot 55 – BB 4510 Perfect Revolution 1709,  Tattoo: 1709, Horned Hereford  reg.# 43826285
DOB: 2/6/17, BW: 82 lbs, adj.WW 695 lbs, adj.YW ?
*1709 is a high performing horned bull out of a super first calf, tidy uddered heifer. He put up a ratio of 120% for weaning weight and was the 2nd heaviest bull out of 31 bulls in his contemporary group. He was born unassisted and out of the popular Rausch bull 4510, who Rausch's claim to be the best Revolution son they have raised.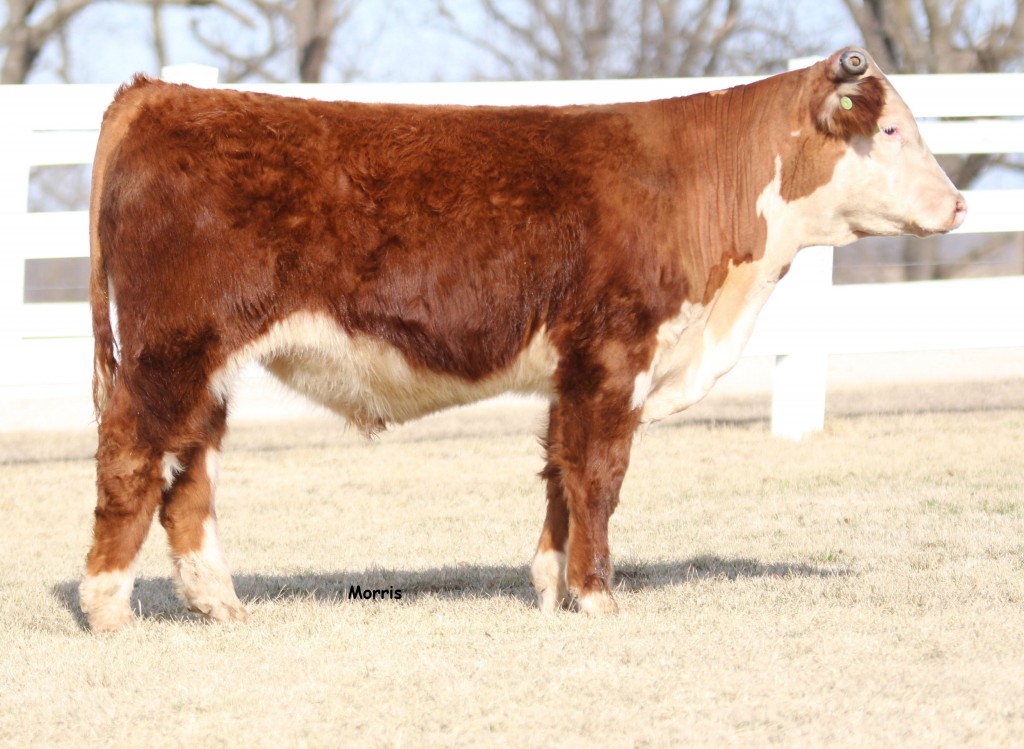 Lot 56 – BB 139 Redeems Domino 1727,   Tattoo: 1727, Horned Hereford   reg.# 43826313
DOB: 2/23/17, BW: 72 lbs, adj.WW 615 lbs, adj.YW ?
*1727 is out of the popular 139 bull who is a cornerstone in our herd. We have sold many bulls and females out of 139 and with very positive results. The 1254 cow is the only cow on the ranch that put up a "9" udder score. 1727 is heifer safe, would qualify for any heifer program and is perfect for making baldy females.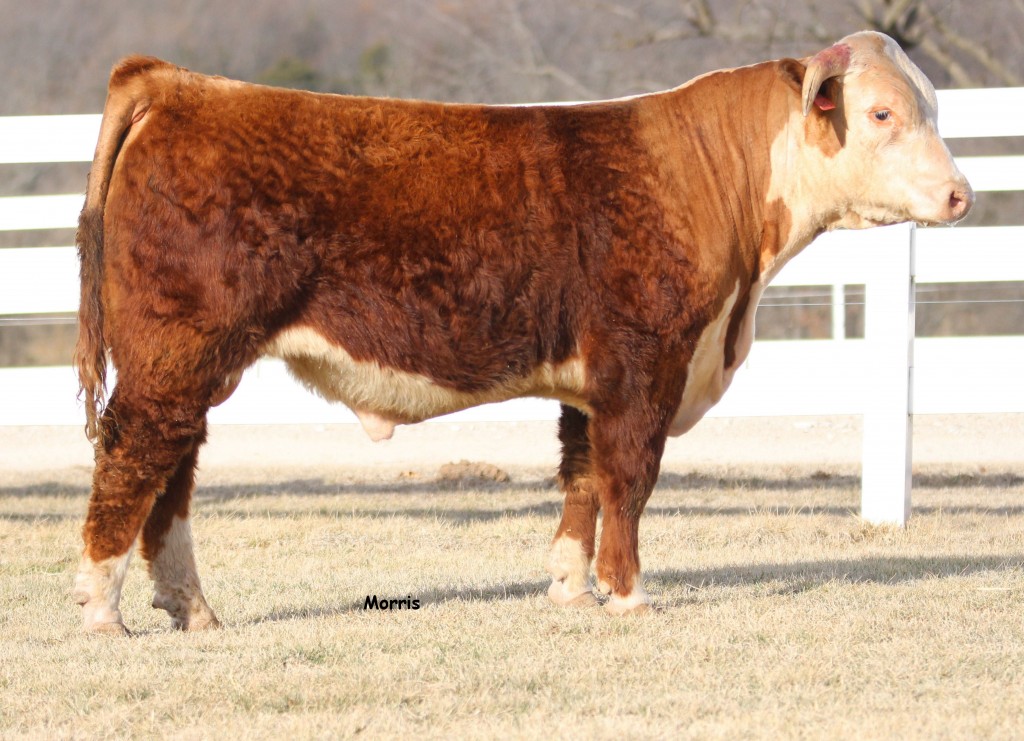 Lot 57 – BB 2296 Perfect Sensation 1643 ET, 
Tattoo: 1643, Horned Hereford reg.#
43795302
DOB: 9/1/16, 
BW
: 68 lbs, adj.WW 580 lbs, adj.
YW
1025 lbs
*1643 is an embryo calf out of 2296, who is a rock star in the breed and our
Oxley
1093 cow. We can not say enough good things about 1093, and that's why we continue to build our program around this awesome cow. 1643 is a survivor, being as though his recipient mother came down with cancer and had to be shipped when 1643 was less then 2 months old. He still turned in respectable weights with little help from us. Heifer safe.
Lot 58 – BB 139 Sensations Domino 1675
, Tattoo: 1675, Hereford (
scurs
) reg.#
43763918
DOB: 11/27/16, 
BW
: 71 lbs, adj.WW ?, adj.
YW
?
*1675 is a accidental mating of 139 going "rogue" and breeding a heifer out of season. The result was this nice bull and a nice
uddered
Sensation bred female that is an excellent addition to our herd. Both of 1675's parents are horned but he himself is
scurred
; so if your looking for a horned bull but like the benefits of polled, the genetics are here. He is also heifer safe and would also qualify for any heifer program. 1675 was the only calf in his contemporary group, which explains why there were no weights recorded on him.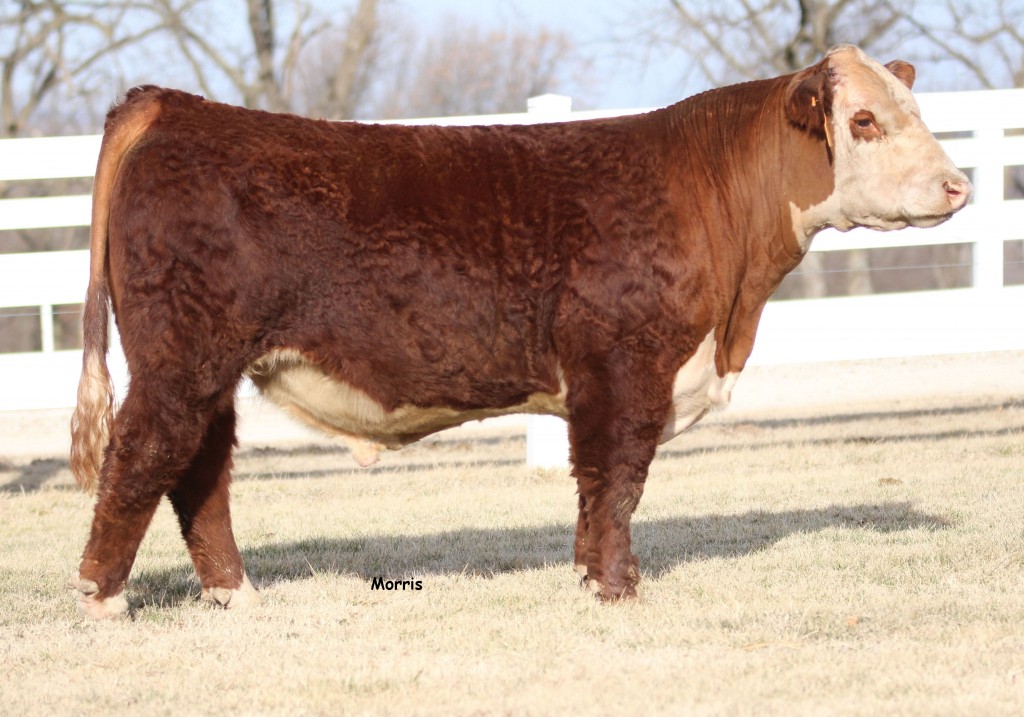 Lot 59 – BB 0245 Reno 1664 ET
, Tattoo: 1664, Polled Hereford reg.#
43765090
DOB: 9/10/16, 
BW
: 72 lbs, adj.WW 611 lbs, adj.
YW

*Here's a really cool goggle eyed, red necked, and red to the ground moderate bull. 1664 is an embryo calf out of our 2917 cow; a really massive, broody, deep sided cow and Cash Flow; who is a bull we have used heavily and has improved our herd tremendously. 1664 is big topped, plenty of bone, clean fronted and deep ribbed.  He is heifer safe, has been DNA tested for use on purebred
herefords
 and will make fantastic baldies.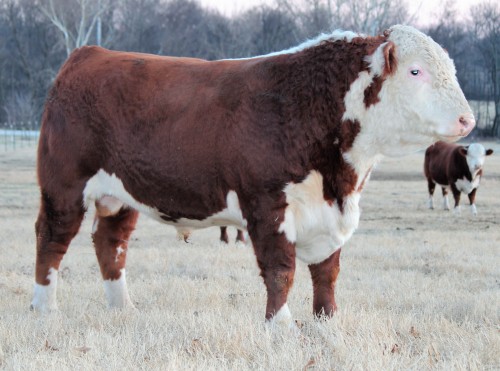 Lot 60 – SEAGRAVES 1B 439 BIGSEXY 1605
, reg. #
P43705098
, DOB 2/9/16
BW 80, WW 546, YW 1605
Grand champion Hereford Bull and Supreme Champion Bull Northeast Arkansas District Fair. Lots of style and eye appeal, big hips, big testicals, easy keeping bull that is sound from the ground up he has been DNA tested and ultra sounded. This bull is ready to go on a registered or commercial herd. Halter broke and very docile.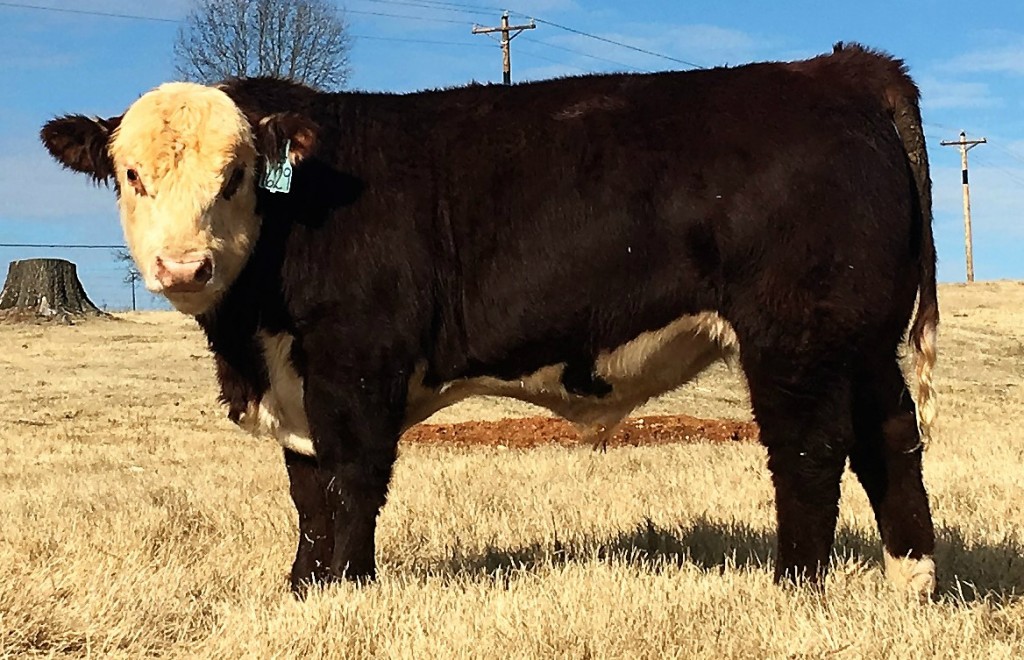 Lot 61 – SEAGRAVES R27 475ZSTOCKMAN1629
, reg. #
P43760904
, DOB 9/23/16
BW 77, WW 592, YW 930
Deep cherry red, conservatively marked bull.  AI sired by TH 89T 755T Stockman 475Z. The stockman son's have tremendous growth. This bull's dam is 13 years old and still producing top quality calves. He pedigree is stacked with great females that will add longevity and udder quality to any program.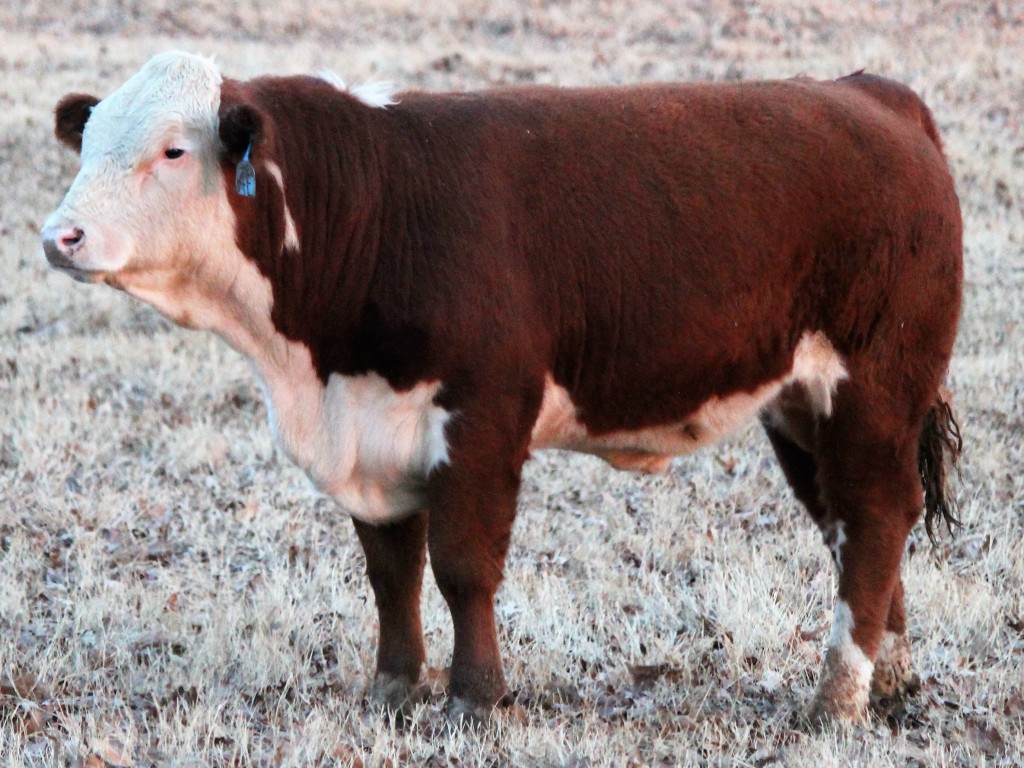 Lot 62 – CJC 515 358 HOMETOWN 4E
, reg. #
P43866438
, DOB 2/14/17
BW 68, WW 630, YW 943
This bull has an outstanding pedigree on the top and bottom. His Grandsire NJW Hometown 10Y is an 11 trait leader, and his Grand dam Gemini 89T is one of the top earning females in the Hereford breed. This bull is Balanced and Functional, he's bred to produce.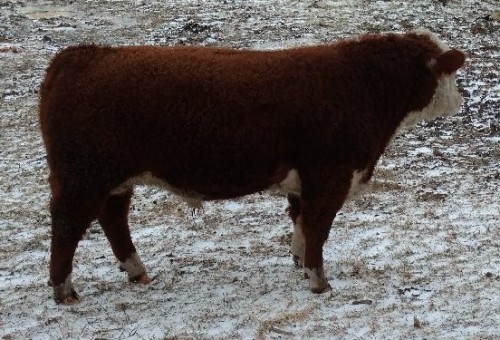 Lot 63 – PAW 446 SPARTACUS 705
, reg #
P43830229
, DOB 2/27/17
BW 89, WW 605
This bull is extremely fault free and well balanced, both visually and on paper. He's below breed average for BW, yet above breed average for WW, YW, and Milk. He'll certainly add mass and power, but his dam is also a striking 8 year-old with a tremendous udder. His sire, F Manhattan 446, was Calf Champion in Denver, but he has also scattered good commercial sons across the United States. 705's daughters will make your mouth water next fall!
Lot 64 – PAW 190Z GOLDEN OX 702 ET
, reg #
P43830234
, DOB 1/5/17, BW 72,
This bull does a number of things really well. He's sound footed, has a good head shape with good eye pigment, and he comes in a moderate package with adequate muscle thickness. His dam produced calves and flushed in southern Missouri at 19 years of age. His sire, NJW Twenty Twelve 190Z, does nothing but fatten your wallet.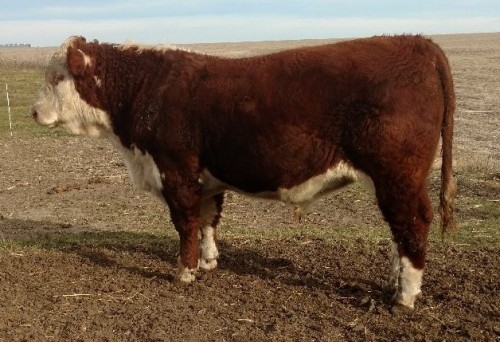 Lot 65 – PAW 190Z WAR ADMIRAL 627 ET
, reg #
P43830232
, DOB 8/29/16, BW 83,
After a moderate actual birth weight, this fall-born bull has pushed the scales down further than any of his pen mates at every stage thereafter, enduring the harsh Iowa winter in the process. He offers extra length of body and extension without sacrificing mass and width. Disposition on this bull is extremely good as well. Two different consignment sales tried to peel this bull off for their offering, but I want to continue to offer top quality bulls at this sale, so take advantage.
Lot 66 – JCF STOCKMAN-P606 1210D ET
,
 43774391
, DOB 12/10/16
BW 98, WW 485, YW 800
Dark red, thick, stout made bull, AI sired by 2014 National Western Champion C Stockman 2059, Maternal Grandsire elite polled P606, No creep, Use on mature cows.
Lot 67 – JCF Advance 805U 2717 E ET
,
43797985
, DOB 2/7/17
BW 80, WW 500, YW 890
100% Line One, Sire is one of Hereford breed great maternal sires, Donor Dam is still being flushed at 9 years with picture perfect udder, Sound growth & maternal EPD traits, quite disposition, No creep
Contact Luke Mobley for information on Hereford bulls
Hereford Bulls that qualify for the $CHB: Lots – 53, 54, 55, 57, 58, 62, 63, 64, 65 & 100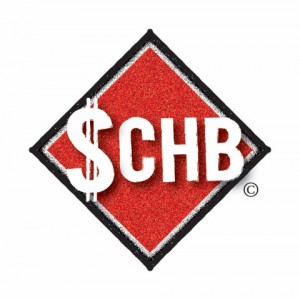 Hereford bulls that qualify to sire heifers for the Premium Red Baldy program:
Lots: 53, 54, 55, 60, 63, 64, 65, 66, 67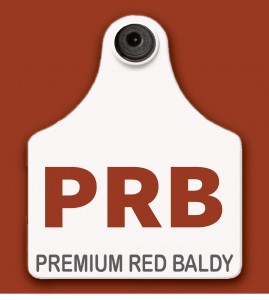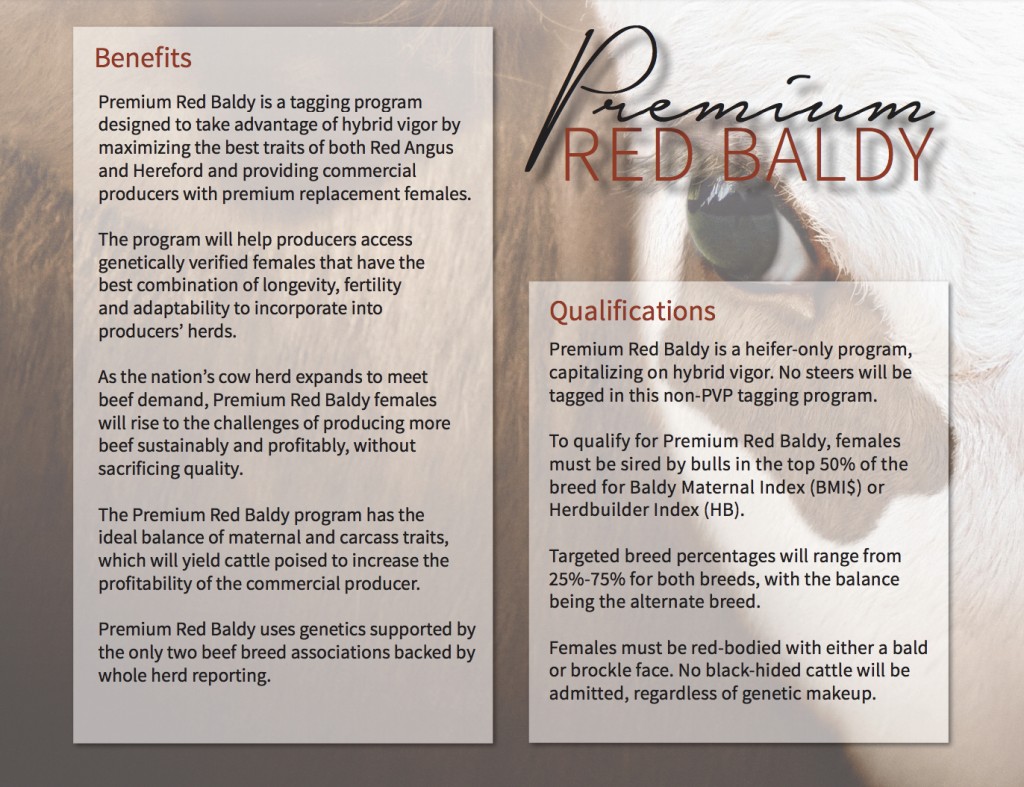 ---
Arkansas Bull Sale Hereford bulls sold in 2017
Lot 58 – SAU 536J, Reg. P43556994, DOB 11/14/14, BW  , Polled
Lot 59 – SAU 541J, Reg. P43557005, DOB 11/18/14, BW, Polled
Lot 60 – SAU 544j, Reg. P43557008, DOB 11/19/14, BW   , Polled
Lot 61 – SAU 547J, Reg. P43557011, DOB 12/14/14, BW   , Polled
Lot 62 – BB 9500 Gold Wyarno 1533 ET, Reg. # 43664386, Horned Hereford
DOB: 3/6/15, BW: 80, adj WW 632, adj YW 1023
This Wyarno ET son is out of GEF Golden Lady 2558. 2558 has found her nitch in the Hereford industry with composite matings by bulls such as Monopoly to produce Hereford marked club steers or market heifers.
1533 exhibits more bone than a typical hereford, plenty of depth and rib. He will add pounds to your calves!
Lot 64 – BB 0245 Beefy Cash 6101 ET, Reg. # 43695768, Horned Hereford
DOB: 2/6/16, BW: 79, adj WW 845, adj YW 1288
6101 is a result of an exciting mating of our rock solid 17 year old Oxley 1093 cow and Cash Flow. No bull has improved overall style and performance as Cash Flow has for our herd. He is now deceased and its hard to find semen even at $600 a straw.
6101 recorded the heaviest Weaning Weight since we have been taking records at 845 lbs., Huge loin and big topped, We are retaining a full brother to use as our own herd sire
Lot 65 – BB A152 Boomer Time 1621, Reg. # 43695766, Polled Hereford
DOB: 2/13/16, BW: 89, adj WW 675, adj YW 1017
We bought 10 straws of Times Up semen and got 9 bulls! This group of 1/2 sibs match as well as any group of bulls we have raised. Stout, thick and sound in structure, all 9 will make excellent bulls
1621 has lots of eye pigment and is out of an outstanding P606 daughter, He should produce fantastic tidy uddered females
 Lot 66 – BB 139 Victor in Dominos 1628, Reg.# 43688662, Polled Hereford
DOB: 2/23/16, BW: 88, adj WW 700, adj YW 1008
1628 is out of our 139 bull and a super nice 719T daughter out of the Geffert herd
We have used the 139 bull for 5 years and his daughters have beautiful udders and his sons sell themselves.
A 139 bull sold here last year for $3900, 1628 is heifer safe and quilifies as a show me select heifer bull
Lot 63 – PAW 139 LUCKY SON 511, Reg.# 43623661, Horned
DOB: 4/5/15, BW 64, Adj WW 616
Currently expecting 12 Hereford bulls for the 2017 sale!
More information coming soon, please check back!
---
2016
Hereford Bulls  & Black Hereford Bull Sold in the 2016 Sale
More information coming soon!